Energy savings with Roller Shutters
Roller Shutters reduce heat transfer
It's a well known fact that external solar protection devices such as Roller Shutters provide superior performance with respect to energy transmission compared to internal shading.
One of the greatest benefits of external Roller Shutters is protection from the sun's near-infrared rays penetrating window glass. Once solar radiation enters the window glass it is absorbed by the surfaces in the room and then emitted in the form of heat radiation. This radiated heat cannot penetrate the glass to escape and is trapped in the room, this effect is called heat trap or the Greenhouse Effect.
Roller Shutters can eliminate this effect by stopping the solar radiation from entering the room saving you costs on cooling your home in summer.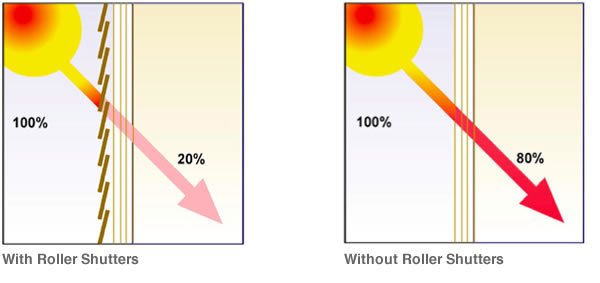 Energy Savings with roller shutters
With rising energy costs it makes sense to install roller shutters in your home to save costs and secure your property.
Roller Shutters will reduce your drastically increasing energy cost and the damaging effects on the environment in the energy production.
The superior insulating properties of Roller Shutters prevent heat and cold transference, providing considerable heating and cooling costs.
Computer modelling through University of NSW has shown 25-40% energy savings on residential properties and up to 59% on residential units.
Roller Shutters prevent much of the summer heat radiating through windows and similarly prevent heat loss from the house in winter.
Roller Shutters provide an environmentally friendly solution to home's comfort.
Call us to arrange a quote
We'll visit your home and custom design a Roller Shutter solution to suit your home and discuss the many thermal benefits and cost savings available. Call 1300 559 110