Roller Shutter control options
Convenience and ease of use
We have a wide range of control options available allowing us to tailor a roller shutter solution to suit your home or business. Choose from the cost effective OzRoll 12 volt drive system which eliminates the need for an electrician, manual winders or straps, heavy duty 240 volt and even solar powered systems. Ask us which system best suits your needs.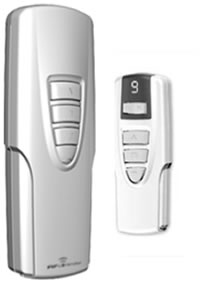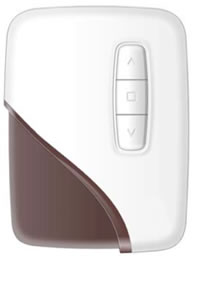 OzRoll 12 volt Drive System
The OzDrive system is a low voltage battery operated drive system that is not reliant upon mains power. It offers a reliable and lower cost option to conventional 240 volt Roller Shutters where an electrician is required for installation.
The portable controller can be moved from room to room with multiple shutter installations and is equipped with a rechargeable battery that can be easily charged by a number of convenient options including solar power.
Each shutter has a stylish wall plate cradle for the controller to slide into. The cradle is connected via a low voltage cable to the shutter motor outside.
There's a wide range of high torque quality motor options depending on the size of your shutters. All have built in limit switches and overload protection and are backed by solid warranties.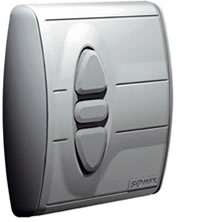 Hard wired 240v Roller Shutters
An alternative to the low voltage OzDrive system is hard wired roller shutters. They use high torque OzRoll or Somfy 240v tubular motors and are wired directly to the mains via a switch plate. This plate is generally located adjacent the shutter but can be mounted in a different part of the room or even another part of the house.
Operation of the toggle switch is simple with up or down positions and the Roller Shutter can be stopped and started at any point. Wireless RF remote controllers or remote key switched can also be incorporated into your shutter system.
If you live in a bushfire area your 240 volt Roller Shutters can be designed to incorporate a UPS battery backup system so you can still open and close the shutters in the event of mains power being disconnected.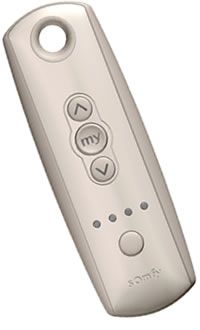 RF Remote control
For the ultimate in convenience why not consider a RF remote for your Roller Shutters. There are several models available to suit both the OzDrive low voltage system as well as the 240 volt shutters.
Controls are available in single channel or multi channel versions to control one or multiple shutters around your home. Full operation is available for up, down or partially open positions. The remotes even have a favourite button which will open your shutter to your pre set position from either fully open or closed.
Talk to us today about the wide range of Roller Shutter control options to suit your home.
Manual winders or Straps
For smaller Roller Shutters and simple installations we have both strap and manual winders available. This manual system allows for cost effective installations where no automation is required.
Book a no obligation Roller Shutter quote - 1300 559 110
Get in touch to book a free no obligation in home quote on your Roller Shutters today. We'll visit your home, discuss the many options available and tailor quote on a cost effective system to suit your home and budget using only the quality OzRoll Roller Shutter System. Call 1300 559 110 or send us an email.